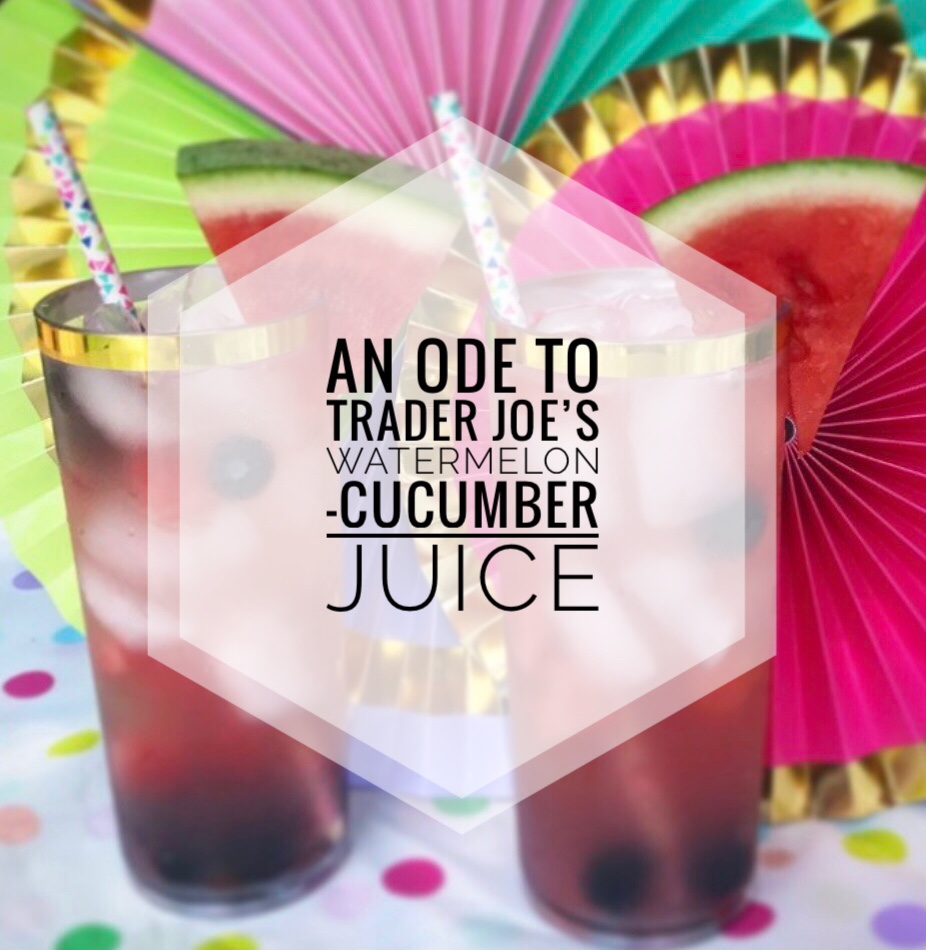 An Ode to Trader Joe's Watermelon-Cucumber Juice
I'm a foodie to the nth degree, and when I find a new product I fall in love with – especially from super affordable Trader Joe's – I want to shout it from the rooftops!
Instead, to avoid my neighbors trying to commit me, I hit up a Facebook group made for uber loyal TJ's Moms like me. I posted about the juice that I had found and spontaneously mixed with some rosé after a hard day of Momming. The response was tremendous! People from all over the country chimed in about their favorite ways to use this insanely delicious nectar.
So, I drew some inspiration from my fellow TJ fanatics. I am dedicating a post to the three most delicious Watermelon Cucumber juice recipes I could come up with based on the group members' awesome ideas. We've got a delicious drink, a fresh appetizer (yes, an app!), and a perfect summer-time dessert. Thanks again for the inspiration, ladies, and be sure to follow along for more!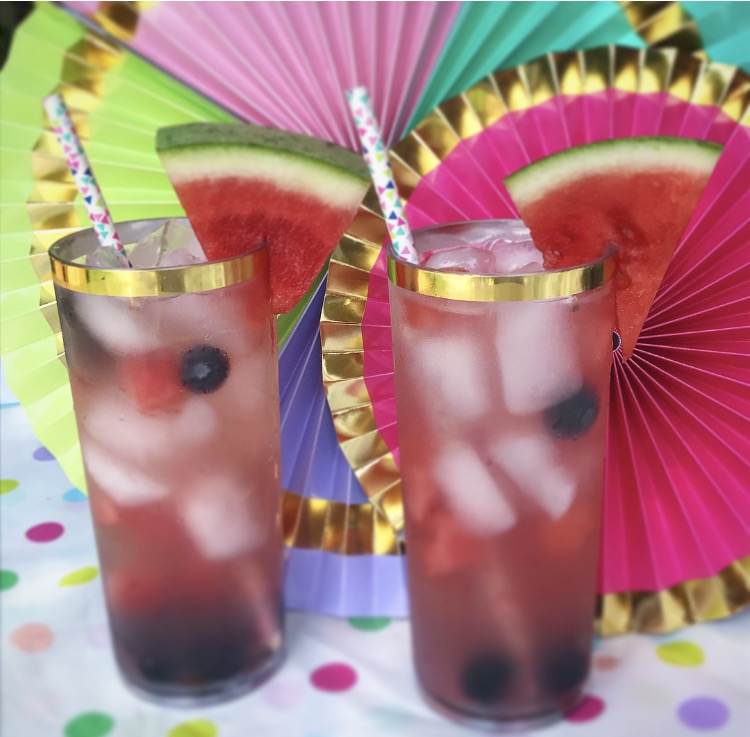 Super Summer Spritzer – The perfect drink to serve at a summer BBQ!
2 cups chardonnay of your choice
2 cups of rose of your choice
2 cups TJ's Watermelon Cucumber Juice*
1 cup lime flavored sparkling water
juice yielded from half a lime
chopped watermelon
1 cup frozen blueberries
Mix non-carbonated liquid ingredients well then stir in sparkling water. Layer fruit and ice in glasses prepared to serve, then pour in liquid. Do not muddle. Serve immediately and enjoy!
*If you prefer a sweeter drink, add more juice! Also, if you prefer different wines, a prosecco would work lovely. Moscato (or those that are inherently sweeter) may make the drink too sweet… unless you don't believe in such a thing!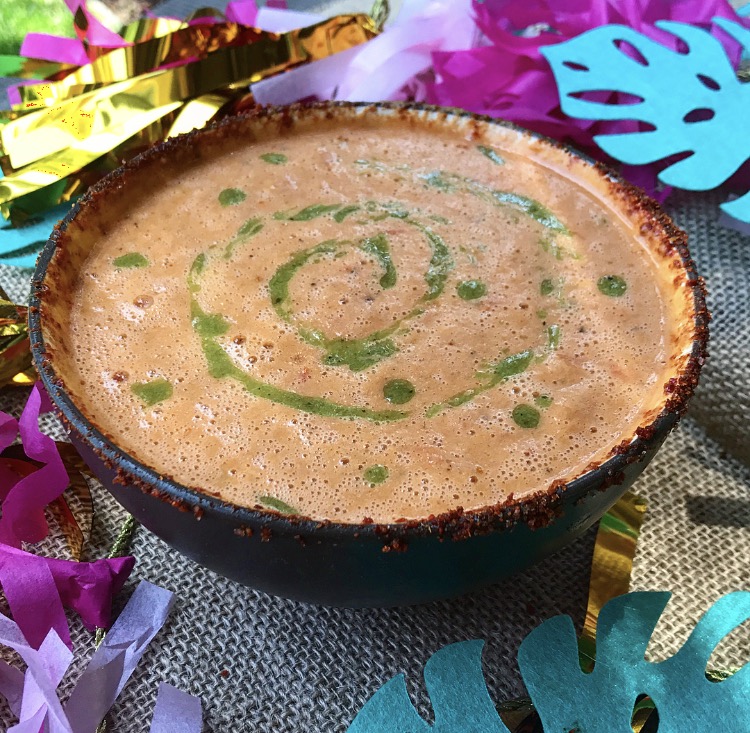 Sweet 'n' Spicy Summer Gazpacho – The perfect sweet, savory, and spicy kickstart to any meal!
Topped with a delicious basil oil:
1/2 cup packed fresh basil leaves
1/2 cup extra-virgin olive oil
Kosher salt
Freshly ground black pepper
Blend ingredients and set aside – don't forget! This stuff makes the dish!
Gazpacho Ingredients:
1 1/2 pounds coarsely chopped cored tomatoes
1 pound coarsely chopped seedless watermelon
3 cups large-dice crustless day-old sourdough
1 1/2 cup TJ's Watermelon & Cucumber juice
1/4 cup coarsely chopped fresh basil leaves
1/4 cup extra-virgin olive oil
1/4 medium red onion, coarsely chopped
3 medium garlic cloves, coarsely chopped
2 tablespoons sherry vinegar
1 1/2 teaspoons kosher salt, and more as needed
1/2 teaspoon cumin
1/4 teaspoon TJ's Chili Lime Seasoning
Mix ingredients and allow them to sit for about fifteen minutes. Then, toss them in a blender incrementally until desired consistency. Top with basil oil. Serve cold!*
*Recommended serving: rim bowl with Trader Joe's chili lime seasoning to ensure everyone will be licking their bowls clean!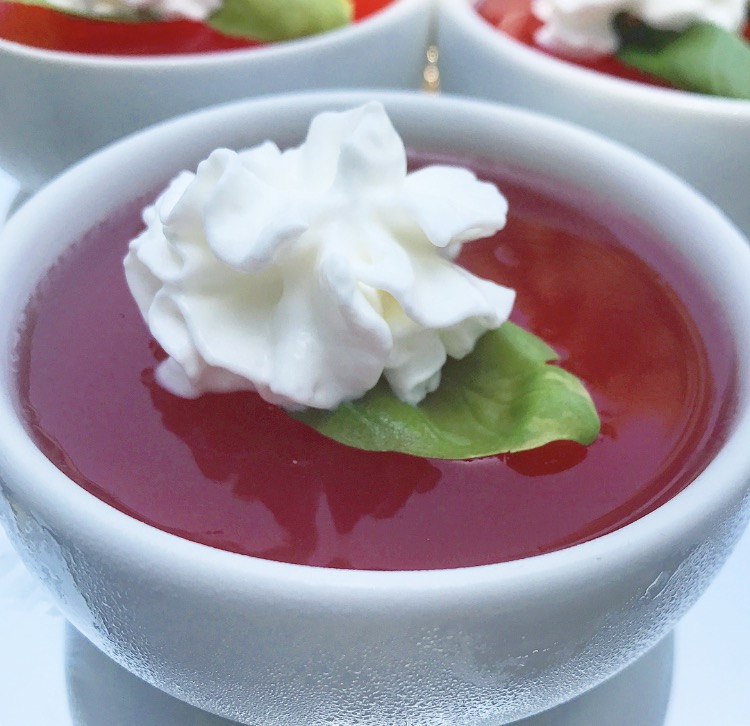 Homemade Watermelon Jell-O – Incredibly simple, yet very elegant*
1 3/4 cups Watermelon Cucumber Juice, divided into two containers (1/4 cup and 1 1/2 cups)
1/4 cup boiled water
1 tablespoon unflavored gelatin
Chunks of diced watermelon (optional)
*Serving suggestion includes basil leaves and whipped cream
("Blooming" directions taken from Detoxinista.com)
To begin, you'll want to "bloom" the gelatin in a bit of cool or room-temperature fruit juice, to ensure a smooth and even end result. In a medium mixing bowl, sprinkle the tablespoon of gelatin over 1/4 cup of the fruit juice and whisk well until the mixture starts to thicken.
Once the mixture is nice and thick, pour the 1/4 cup of hot (just boiled) water over it, and whisk well to dissolve evenly. When the mixture is smooth, add in the remaining 1 1/2 cups of fruit juice, and mix well to combine.
Pour the mixture into small, single serving containers and place in the fridge to set for at least 2 hours. Top with two basil leaves and whipped cream, serve to the most delighted eaters ever!
–